Company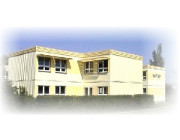 SARAD GmbH was founded by the physician Prof. Dr. Thomas Streil in 1993. The company started as service provider assessing radioactive polluted properties with regard to their later decontamination. After a short time, the development of electronic measuring instruments was started. In 1994, SARAD presented the first radon monitor by own production. Since 1997, the development and manufacturing of premium measuring equipment are the pillars the company is built on. Due to its positive business performance, the company was able to move into its own corporate building in 2000. Step by step the range of products was extended in the following years.
Today the name SARAD stands for a worldwide unique range of monitoring instruments for radon, thoron, radon progeny products and radioactive aerosols for nearly every application.
Based on this core competence, a comprehensive know-how in the domain of environmental monitoring was built up. Many multi parameter stations for the research of earthquakes and volcanism have been installed.
Equipment made by SARAD is used successfully in more than 50 countries on all continents. A worldwide network of partners and representatives makes for best pre-sales and after-sales support and service.